Thirty-Seven Post & Schell Attorneys Named to the 2020 Edition of The Best Lawyers in America©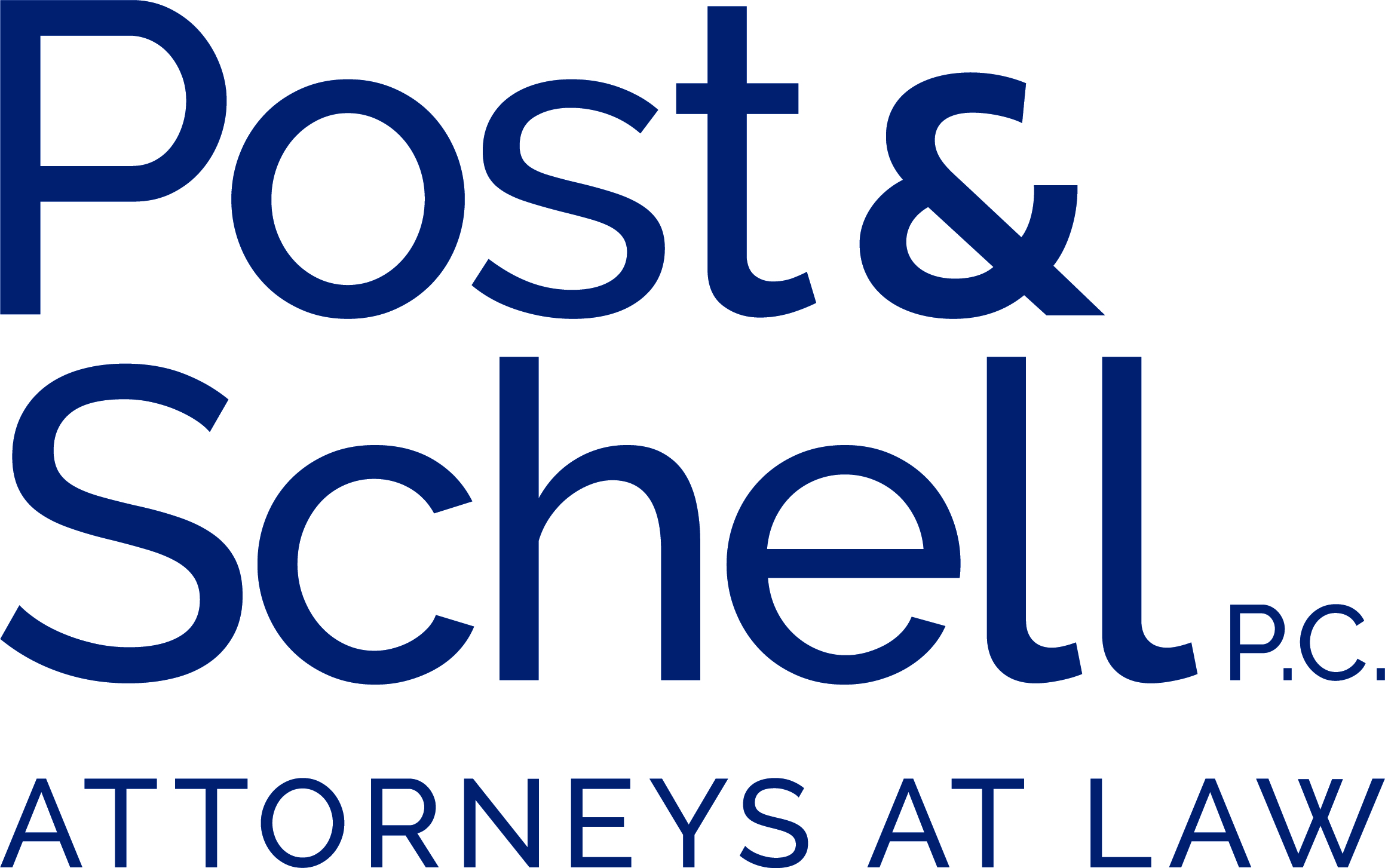 Philadelphia, PA - August 15, 2019 - Thirty-seven Post & Schell attorneys have been named to the 2020 edition of The Best Lawyers in America© in 21 different categories.
Attorneys named to The Best Lawyers in America 26th edition were recognized by their peers in the legal industry for their professional excellence in 146 practice areas. For the 2020 Edition, 8.3 million votes were analyzed, which resulted in the inclusion of more than 62,000 lawyers, or approximately 5 percent of lawyers in private practice in the United States. For information about these selections and an overview of common third-party publications, rankings, and lists methodologies, click here.
In addtion, four Post & Schell attorneys were recognized in the Lawyer of the Year category, which honors recipients based on their extremely high overall feedback within specific practice areas and metropolitan regions.
Lawyer of the Year Recipients in the 2020 edition of The Best Lawyers in America :
Harrisburg/Lancaster

James J. Kutz - Appellate Practice
Oliver C. Overlander, III - Workers' Compensation Law - Employers

Philadelphia

Mason Avrigian, Jr. - Construction Law
The full list of the Post & Schell attorneys included in the 2020 edition of The Best Lawyers in America:
Appellate Practice
Commercial Litigation

Harrisburg, PA

John W. Dornberger
James J. Kutz
Kenneth L. Sable

Lancaster, PA
Philadelphia, PA

Construction Law

Harrisburg, PA

Kenneth W. Lee
Michael W. Winfield

Philadelphia, PA

Mason Avrigian, Jr.
Paul A. Logan

Criminal Defense: White-Collar

Philadelphia, PA

John N. Joseph
Ronald H. Levine
Abraham J. Rein

Employment Law - Management

Philadelphia, PA

A. James Johnston
Andrea M. Kirshenbaum
Sidney R. Steinberg

Energy Law

Harrisburg, PA

Terry R. Bossert
Michael W. Gang
Michael W. Hassell

Philadelphia, PA
Washington, DC

Energy Regulatory Law

Harrisburg, PA

Terry R. Bossert
Michael W. Gang
Michael W. Hassell

Environmental Law
Health Care Law

Philadelphia, PA

Ronald H. Levine
Robin Locke Nagele

Insurance Law

Harrisburg, PA
Philadelphia, PA

Kathleen K. Kerns
Richard L. McMonigle, Jr.
Steven Schildt
John C. Sullivan

Litigation - Construction

Harrisburg, PA

John W. Dornberger
Kenneth L. Sable

Philadelphia, PA

Litigation - Insurance
Litigation - Regulatory Enforcement (SEC, Telecom, Energy)
Litigation and Controversy - Tax
Mass Tort Litigation / Class Actions - Defendants
Medical Malpractice Law - Defendants

Philadelphia, PA

Donald N. Camhi
J. Michael Doyle

Oil and Gas Law
Personal Injury Litigation - Defendants
Privacy and Data Security Law
Product Liability Litigation - Defendants

Lancaster, PA
Philadelphia, PA

Daniel S. Altschuler
Richard B. Wickersham, Jr.

Workers' Compensation Law - Employers

Lancaster, PA

Patrick T. Cusick
Oliver C. Overlander, III

Philadelphia, PA