Post & Schell Attorneys Participate in PA YMCA's State Model Convention in Harrisburg April 20-23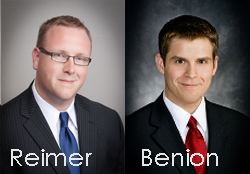 From April 20 - 23, 2017, the State YMCA of Pennsylvania Youth & Government Program held its 2017 Pennsylvania State Model Convention in Harrisburg, PA. The annual event is a gathering of nearly 700 junior and senior high school students in the YMCA's Youth & Government clubs from across Pennsylvania who spend four days filling the roles of state government - governor, lawmakers, courts, and press - and acting out Pennsylvania's legislative process in full-day sessions.
This year's convention included the participation of seven Post & Schell attorneys - Jason G. Benion, Lindsay A. Berkstresser, Kenneth W. Lee, Paula J. McDermott, Jason L. Reimer, Kenneth L. Sable, and Sarah C. Yerger - who participated as mentors during the convention. In addition, Mr. Benion managed the judicial component of the program that had 150 high school students debating an appellate problem in the historic Supreme Court chambers.
Mr. Beniion and Mr. Reimer, former student participants in the Convention, also serve as a Members of the Youth & Government Program's Board of Directors and Mr. Reimer is the Board's Immediate-Past-President. Mr. Reimer noted that the Convention, now in its 70th year, offers a unique experience for its participants, many of which may consider careers in the law, government, or media.
"The Convention was a tremendous learning experience for me and provides students with an in-depth understanding of the legislative and legal process," said Mr. Reimer. "Regardless of the career path they may choose, the experience is invaluable in helping to create better leaders and more informed citizens."
For more information regarding the Pennsylvania YMCA Youth & Government Program, click here.