The Pennsylvania Defense Institute Honors Post & Schell as "Defense Firm of the Year" at its Annual Conference on July 15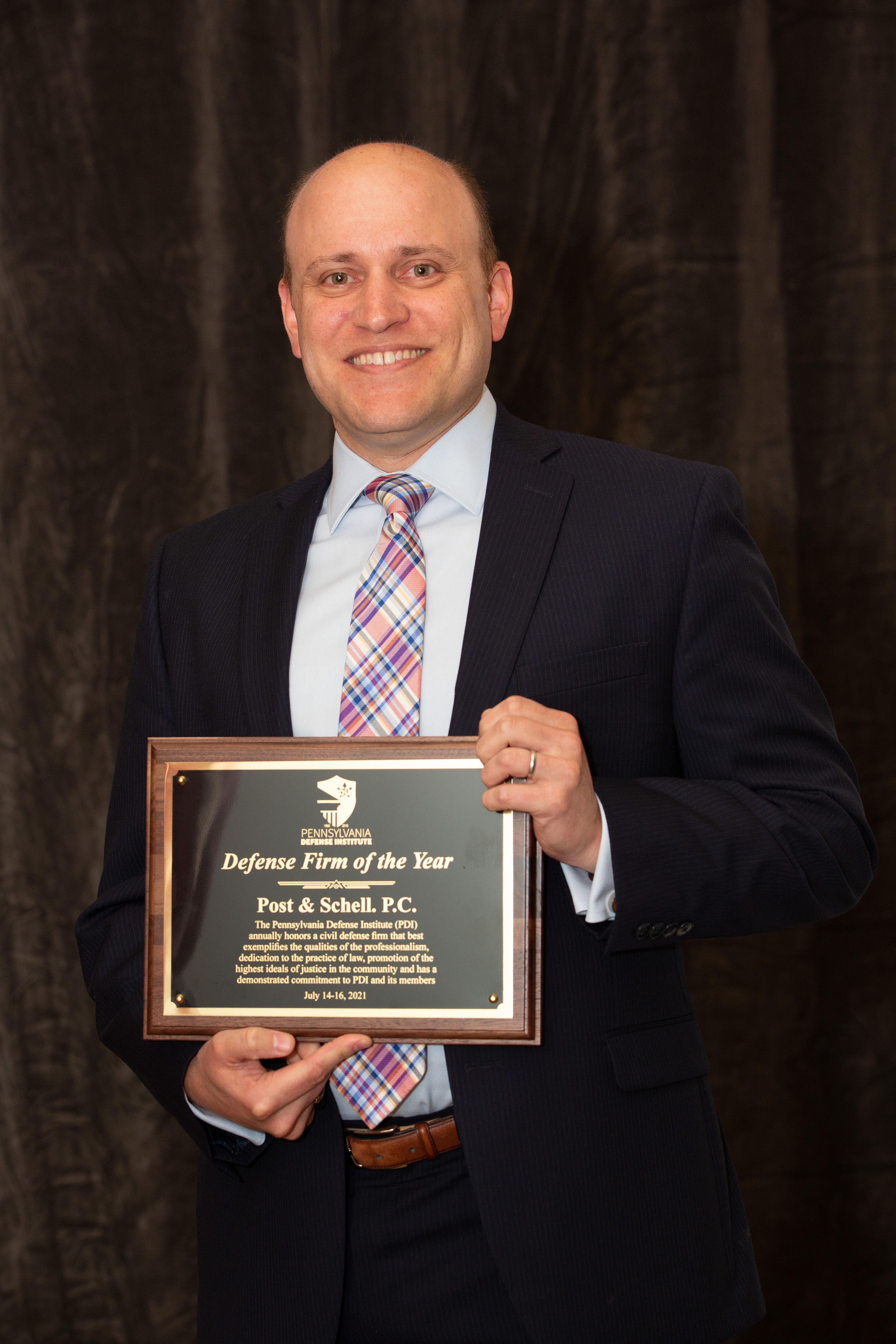 Philadelphia, PA – August 10, 2021 – Post & Schell, P.C. is pleased to announce that the Pennsylvania Defense Institute (PDI) honored the firm as its "Defense Firm of the Year" at its Annual Conference on July 15, 2021, at the Omni Bedford Springs Resort in Bedford, PA.
Through the Defense Firm of the Year Award, PDI honors a civil defense firm that best exemplifies the qualities of professionalism, dedication to the practice of law, promotion of the highest ideals of justice in the community, and a demonstrated commitment to PDI and its members. Post & Schell Insurance Law Department Principal Bryan M. Shay, who is also Co-Chair of PDI's Bad Faith Committee, accepted the award on behalf of Post & Schell.
Boasting membership that includes approximately 400 lawyers, executives of insurance companies, self-insurers, independent adjusters, and others who devote a substantial portion of their time to the defense of damage suits or to claims administration, PDI works to establish a communications link among its members; to inform members with information on relevant and significant cases and court decisions; and to enhance the knowledge and improve the skills of its members. Through a collegial environment, PDI encourages members to meet and find innovative ideas that both improve the administration of justice and help reduce court congestion and delays in civil litigation.

About Post & Schell, P.C.
For over 50 years, Post & Schell's attorneys have combined the operational knowledge and insight into the industries they represent with creative legal solutions – and helped clients overcome their legal and business challenges.

Founded in 1968, we have grown from a Philadelphia insurance defense focused firm, to a firm with diverse, collaborative, and complementary practices and attorneys. With over 50 practice groups and eight offices, we provide litigation, regulatory compliance, business and transactional, and dispute resolution services to clients regionally, nationally, and internationally.
With offices in Washington, DC, Mt. Laurel, NJ, Wilmington, DE, and Philadelphia, Pittsburgh, Harrisburg, Lancaster, and Allentown, PA, our attorneys represent industries in a variety of venues and geographic markets.