Workers' Compensation Principal Byrne and Associate Hudock Serve as Faculty for Feb. 26 Claims Certification Program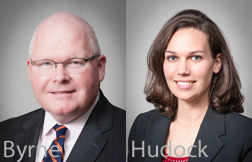 On February 26, Workers' Compensation Principal Patrick R. Byrne and Associate Alysia L. Hudock served as faculty instructors for the Insurance Society of Philadelphia's Workers' Compensation Claims Certification program.
The course, "PA13 - Workers' Compensation Legal Aspects of Claims," provided legal analysis of benefits, types of injuries covered, scope of employment, occupational diseases, and resolution of claims through litigation.
The Workers' Compensation Claims Certified Designation Program is the only course of its kind available in the Delaware Valley. Developed in 1988 by the Insurance Society of Philadelphia and the Philadelphia Workers' Compensation Claims Association, this designation program is taught by educators with specific experience in Workers' Compensation.