Post & Schell Secures Summary Judgement for St. Mary Medical Center in PA Eastern District Age Discrimination/Retaliation Case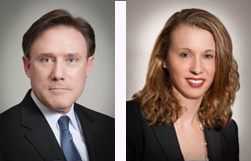 The case involved allegations of unlawful age discrimination and retaliation under the Age Discrimination in Employment Act ("ADEA") and Pennsylvania Human Relations Act ("PHRA") by a former employee of St. Mary Medical Center.
The plaintiff, a registered nurse, was terminated in January 2013 following an extended period of corrective actions and counseling from St. Mary's human resources department and the plaintiff's managers. The reasons for her termination included unsatisfactory job performance, numerous patient complaints, and lack of improvement. The plaintiff alleged that St. Mary's reasons for her termination were pretext for age-based discrimination. The plaintiff also alleged that the corrective actions she was subjected to were "especially harsh" and contrasted with the treatment of her younger co-workers, and that she was subjected to discriminatory language by non-manager co-workers regarding her age.
In granting St. Mary's Motion for Summary Judgement, the Honorable Gerald Austin McHugh of the U.S. District Court for the Eastern District of Pennsylvania, ruled that the plaintiff had "not presented any record evidence that St. Mary's reasons for terminating her employment were in fact motivated by discriminatory or retaliatory animus." In dismissing the claim of discrimination, the Court noted that the plaintiff, while making the case she had received positive performance reviews while employed:
"…ignores the fact that Corrective Action Notices were also issued in 2004, 2005, 2010, and 2011. In 2012, there is clearly an undisputed, heavily documented history of patient complaints and managerial warnings regarding her behavior and interaction with co-workers and patients, including patient safety concerns."
In its dismissal of the plaintiff's retaliation claim, the Court noted that:
"Regardless of whether or not Plaintiff has established a prima facie case, she has not raised a genuine issue of material fact that would allow a reasonable juror to infer that her termination was motivated by retaliation for protected conduct. There is simply a dearth of evidence suggesting that Plaintiff's discharge was motivated by anything other than legitimate business reasons."
The case was not appealed.
Employment & Employee Relations Principals A. James Johnston and Andrea M. Kirshenbaum represented St. Mary's in the matter.