Post & Schell Advises MRP Realty on $110 Million, Four Property Acquisition in Philadelphia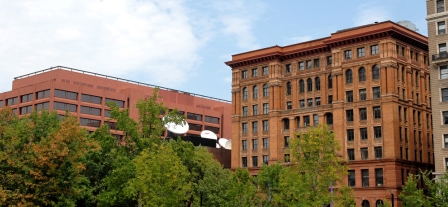 PHILADELPHIA, PA – February 12, 2016 – Post & Schell, P.C. represented Washington, D.C.-based MRP Realty on its multimillion dollar acquisition of a real estate portfolio in Old City that includes two mid-century office buildings, a parking garage with movie theatre, and the historic Bourse Building.
Built in 1891, the 10-story, 281,000 square foot Bourse Building hosted the nation's first commodities exchange, and has served as mixed office and retail space since the 1980s. Plans call for repositioning the existing ground floor retail with a mix of higher end dining and drinking establishments, capitalizing on a host of recent developments in the Independence Mall submarket, and renovating the office space on the upper floors into open floor plans that appeal to tech companies and creative users.
In addition to the Bourse Building, at 111 S. Independence Mall East, the acquisition totals over 700,000 square-feet of space and includes:
400 Market Street, a 12-story, 169,000-square-foot office building
Constitution Place, a 13-story, 87,760-square-foot office building at 325 Chestnut Street
The Bourse Garage, a 10-story, 453 space parking garage at 401 Ranstead Street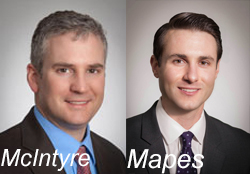 Post & Schell provided MRP with environmental counseling on the acquisition, including managing environmental due diligence and reporting, structuring environmental insurance coverage, and negotiating environmental issues involved in the financing of the acquisition. The Post & Schell team advising MRP was led by Paul R. McIntyre, Co-Chair of the Firm's Environmental Practice Group, with support provided by Associate Aaron S. Mapes.
Mr. McIntyre notes that this recent MRP acquisition is similar to the types of real estate transactions the Practice Group regularly advises on across the country. In 2015, Post & Schell's Environmental Practice Group provided environmental counseling in over $3 billion of real estate transactions, totaling more than 20 million square feet of commercial, retail, residential and hospitality space, plus development sites.
"Large transactions, like MRP's Bourse acquisition, typically entail a variety of environmental issues that must be evaluated and addressed in tandem with contractual negotiations among the parties," said Mr. McIntyre. "This includes pre-acquisition environmental diligence to assess potential risks and liabilities, planning and estimating the costs and timing of environmental regulatory compliance in connection with proposed renovations and development activity, negotiating contractual liabilities among buyers, sellers and lenders, and structuring insurance coverage to address potential related liabilities. The last year has been very active with larger transactions, predominantly in gateway markets but increasingly in Philadelphia."
Founded in 2005, MRP Realty is a leading owner, operator and developer of office, industrial, retail and residential real estate, focused on opportunistic and value-add investments in the Mid-Atlantic, with offices in Washington, DC, New York, and Philadelphia.
About Post & Schell, P.C.
Post & Schell, P.C. is committed to defining, measuring and achieving legal excellence. We provide sophisticated legal services and strategic counseling to highly regulated industries and their directors, officers, and stakeholders regionally, nationally and internationally. Our attorneys provide our clients with problem-solving and efficient representation in transactional, litigation, regulatory, compliance, corporate and public policy matters.
Our focused legal product lines are vertically integrated into a variety of highly regulated industries including: banking and financial services; commercial transportation; commercial construction; energy & utilities; environmental; health care; hospitality; information technology and informatics; insurance; manufacturing; pharmaceutical and medical device; pharmacy benefit management; and professional services.
With offices in Washington, D.C., Princeton, NJ, and Philadelphia, Pittsburgh, Harrisburg, Lancaster, and Allentown, Pa., our attorneys represent industries in a variety of venues and geographic markets.