Lindsay Andreuzzi and Marni Berger Present on PA Insurance Coverage and Bad Faith Law at Insurance Society of Philadelphia CLE on May 5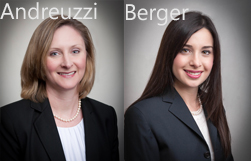 Insurance Law Principal Lindsay B. Andreuzzi and Associate Marni Sabrina Berger co-presented, "Insurance Coverage and Bad Faith in Pennsylvania," on May 5 at Post & Schell's Conference Center in Philadelphia. The CLE presentation was sponsored by the Insurance Society of Philadelphia (ISOP).
The presentation provided a thorough overview of bad faith law as it applies to insurance coverage, the historical development of the law, and the legal framework for insurance coverage decisions, policy interpretation, and duties to defend and indemnify. Frequently litigated issues were also addressed.