Andrea Kirshenbaum and William Flannery Examine the Impact of PA Supreme Court's Braun Decision for The Legal Intelligencer on Jan. 5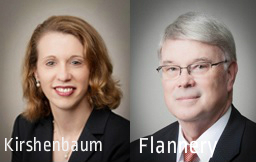 In a January 5 article for The Legal Intelligencer, Employment & Employee Relations Principals Andrea M. Kirshenbaum and William J. Flannery analyzed the impact of the Pennsylvania Supreme Court's decision in Braun vs. Wal Mart. The case involved a class of 187,979 hourly paid employees who claimed that they were not given paid breaks as promised in the employee handbook, and alleged they were often forced to work "off-the-clock." On December 15, 2014, the Court affirmed an award of over $187 million to the plaintiffs in the case.
In discussing the decision's potential impact on Pennsylvania employers, Ms. Kirshenbaum and Mr. Flannery note that:
"The dissenting opinion of Justice Thomas G. Saylor in the case is a clarion call to Pennsylvania employers (as well as the Pennsylvania legislature) to stand up and take notice of the significance of this decision...opining that the trial court and Superior Court implemented 'a severely lax approach to the application of governing substantive law in the issuance and sustainment of an almost $200 million verdict based on proof which was insufficient to establish liability and damages across a 187,000-member class...'"